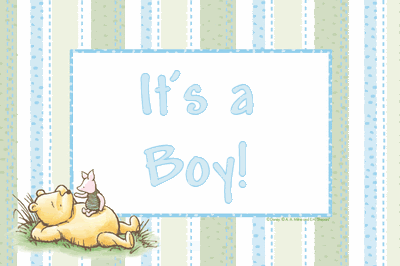 so obviously we have some big news! it's official that we are having a baby boy! we are really excited about it. i always wanted a boy first because i have such great big brothers, and i love it. we have been looking at lots and lots of baby stuff and i am a little overwhelmed with all that we are going to need to buy. i made a list and it's monsterous. the good news is that we made one of our major purchases today, we bought him a crib! it is really cute, and it's pretty unisex so that when we have a girl she could use it too. (side note: i really hate winnie the pooh, i just thought that this was the best announcement!)
today i also went to my best friends baby shower, her name is amber. we have been friends for over ten years and i love her dearly. we always wanted to have babies together and i am so glad that this is happening! the only bad part is that she is living in arizona at the moment. but i still love having someone to talk to about all the crazy things that are happening yay for seeing old friends!
this is my baby list:
.
bassinet (we decided to borrow a port a crib from my mom that is small enough to fit at the end of our bed so we don't have to buy one)

.
crib
/mattress
.
dresser/changing table
the best part about this is that part of the changing table turns into a night stand later!
.baby monitor
.rocking chair
.baby hangers
.toy box
.
lamp
/nightlight
.
3-5 fitted sheets

.
mobile

.
bedding

.diapers
.wipes
.desitin
.garbage can
.baby powder
.cotton balls/swabs
.bath seat
.4 hooded towels
.
wash cloths

.baby shampoo/wash
.baby brush
.baby lotion
.
car seat/adapter
.
stroller
.mirror for car
.
diaper bag
.sling
.themometer
.infants tylenol
.sunshade for car
.infants mylocin (for gas)
.
bulb syringe

.pacifiers
. bottles
.formula
.changing pad
.nursing blanket
.swing
.bouncy seat???
.nipples
.bottle brush
.high chair
.breast pump (if needed)
.pump accsessories/bags
.boppy pillow
.nip cream (for those of you that want to get personal)
.onesies
.socks
.burp cloths
.lingerie bag
. bumbo seat
stuff we have bought is now hilighted in
BLUE