1. Where did you meet your husband? On a blind date, thanks to one of my very best friends jill. They both worked at ogden clinic and jill insisted i go out with him, and we have been attached ever since.
2. What was the first thing you said to your husband? He called me before we went out and we talked for hours, about music, dating, just tons and tons of stuff, we hit it off really quickly.
3. Where was your first date? We went out will Jill and Jordan and we ate at Sandy's and we tried to go play baseball or something but it didn't work out. we went to my house later and watched emperor's new groove.
4. Where was your first kiss? On my bed!!! ok, i know that sounds really bad, but we were watching a movie, laying on my bed, (but my bedroom did not have a door or anything!) and we just kissed!

5. Did you have a long/short engagement/courtship? We met on April 11, got engaged in June and married in September, so yes it was very short.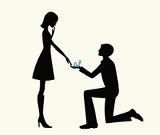 6. Where did you get engaged? unofficially in the park, officially in my bedroom.
7. Where did you get married? the salt lake temple, and reception in layton.